---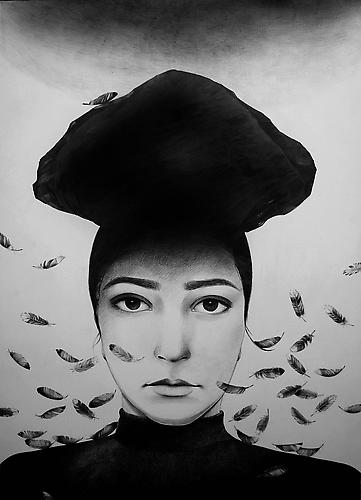 ---
Asal Fallah
Asal was born in Tehran in 1983. In 2005, she received her Bachelor of Arts in painting from Tehran's Azad University, where she later returned to obtain her Master of Fine Arts in the same field. During the course of her studies, she had the opportunity to work with some of the country's most respected professors such as Yaghoub Amamehpich, Dr. Habib Sadeghi, and Dr. Manoochehr Motabar.
Being a member of the Society of Iranian Painters, as well as the Iranian Centre for the Development of Visual Arts, and having participated in over 30 group exhibitions thus far, Asal has accomplished much in the relatively short span of her artistic career, and is widely regarded as one of the country's most promising emerging visual artists.
Asal describes her
My World
series, a collection of over 200 drawings produced over a ten-year period, as being a representation of her 'mental ambience, needs, and daily experiences', as well as her dreams. It is a collection which not only serves as Asal's 'visual autobiography', but which also allows her and her audience to transcend reality into the realm of dreams and imagination.
Working with black pen on cardboard is not only Asal's stylistic preference and a defining characteristic of her work, but also a source of 'tranquility' for the young artist. Similarly, Asal describes producing the works in the
My World
series as being very therapeutic for her, as she was able to share her 'sorrows and loneliness' with her audiences. In the artist's own words, with respect to the production of her vast collection, 'it was only myself, my mind, and my heart'.
Selected Solo Exhibitions
2006 My World Collection, Art Gallery, Tehran
2008 My World Collection, Mirmiran Art Gallery, Tehran
2011 My World Collection, Seyhoun Art Gallery, Tehran
Selected Group Exhibitions
2007 Three Friends, Mehrin Gallery, Tehran
2008 Colour of Kindness, Faam Gallery, Tehran
2008 Colour of Kindness, Aghili Art Gallery, Tehran
2009 Colour for Green, Pardis Gallery, Tehran
2009 Form, Expression, Performance, House of Iranian Artists, Tehran
2009 Action, Expression, Creativity, Mah-e-Mehr Gallery, Tehran
2009 Action, Expression, Creativity, Elahe Art Gallery, Tehran
2009 Young Iranian Artists Exhibition, Mah Art Gallery, Tehran
2010 Select Members of the Society of Iranian Painters, Nami Art Gallery, Tehran
2010 Select Members of the Society of Iranian Painters, House of Iranian Artists, Tehran
Selected Art Fairs and Events
2008 Fadjr International Festival of Visual Arts (1st Edition), Museum of Contemporary Painting & Niavaran Cultural Centre, Tehran
2008 Fadjrafarinan Festival (1st Edition), Saba Museum, Tehran
2009 Festival of Contemporary Iranian Drawing (2nd Edition), Imam Ali Museum & Pardis Gallery, Tehran
2009 Iranian Youth National Festival (1st Edition), Saba Museum, Tehran
2009 Festival in Support of Humanitarian Movements (1st Edition), Iranian Organizational of International Soceities, Tehran
2010 Youth Festival for Experimental Visual Art (5th Edition), Saba Museum, Tehran
2011 International Arts Festival of Resistance (2nd Edition), Saba Museum, Tehran
Other Achievements
* Member of the Society of Iranian Painters
* Member of the Iranian Centre for the Development of Visual Arts
* Her
My World
collection was awarded the judges' prize for drawing at the first Young Iranian Artists' Festival in Tehran
* Was awarded the judges' prize for photography at the first Fadjr International Arts Festival in Tehran