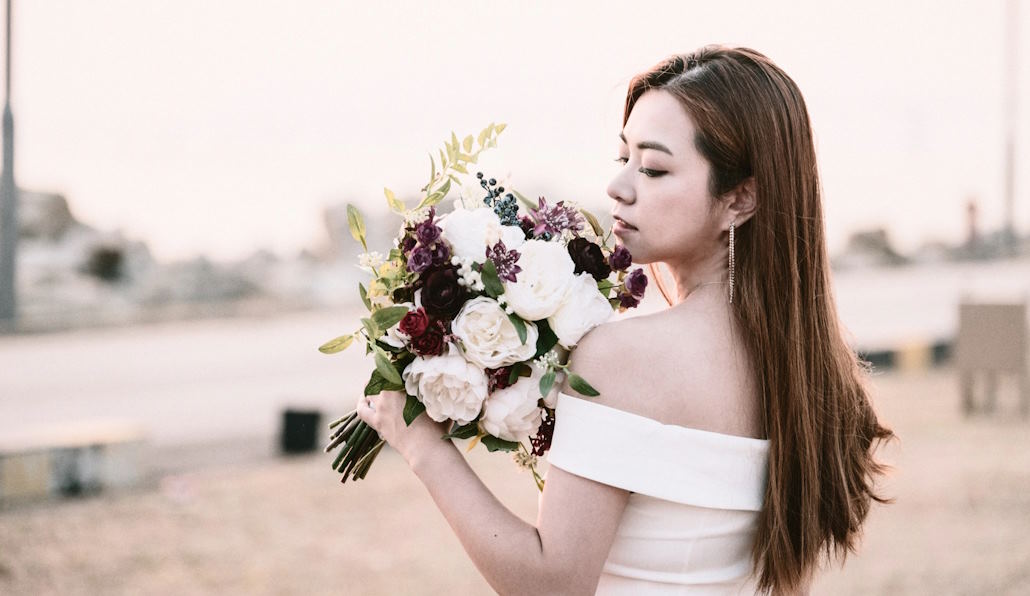 Bridal Hairstyles for Different Wedding Themes: Matching Your Hair to Your Venue
Choosing the perfect bridal hairstyle is an essential part of completing your wedding day look. Your hair not only frames your face but also plays a significant role in reflecting the overall theme and ambiance of your wedding venue. Whether you're planning a classic and elegant affair, a rustic and bohemian celebration, a modern and minimalist gathering, a vintage and retro-inspired event, or even a beach or destination wedding, it's crucial to select a hairstyle that harmonizes with the surroundings.
Rustic and Bohemian Wedding Themes
When it comes to creating a whimsical and free-spirited ambiance, rustic and bohemian wedding themes are the perfect choice. These themes embrace nature, organic elements, and a laid-back vibe, allowing couples to celebrate their love in a relaxed and enchanting setting. Rustic weddings often take place in charming barns, lush gardens, or outdoor spaces adorned with wooden accents, burlap details, and mason jar centerpieces. Find here a boho-chic style wedding hairstyles displayed in bohemian weddings, where inspiration is derived from nature, flowers, and a fusion of vintage and modern elements. Within these themes, you'll discover an enchanting and effortless charm that permeates not just the decorations, but also the wedding hairstyles.
Bridal hairstyles that work well with rustic and bohemian themes:
Loose and tousled braids:
For rustic and bohemian weddings, loose and tousled braids are an ideal choice. Whether it's a fishtail braid, a messy side braid, or a boho-inspired milkmaid braid, this hairstyle adds an element of bohemian charm. The loose strands and gentle waves that frame the face perfectly complement the relaxed and organic atmosphere of these themes.
Floral hair accessories and crowns:
Embrace your inner flower child by adorning your bridal hairstyle with delicate floral hair accessories or a stunning flower crown. These nature-inspired adornments add a touch of whimsy and romance to your look, making them a quintessential choice for rustic and bohemian weddings. Whether you opt for a crown of fresh wildflowers or a cluster of artificial blooms, floral accessories effortlessly enhance the boho vibe.
Effortless waves and beachy curls:
If you're envisioning a rustic or bohemian beach wedding, effortless waves and beachy curls are the go-to hairstyles. These relaxed and tousled textures evoke a sense of natural beauty and carefree spirit. You can achieve this look by using a curling wand or salt spray to create loose waves or curls, enhancing the overall bohemian aesthetic.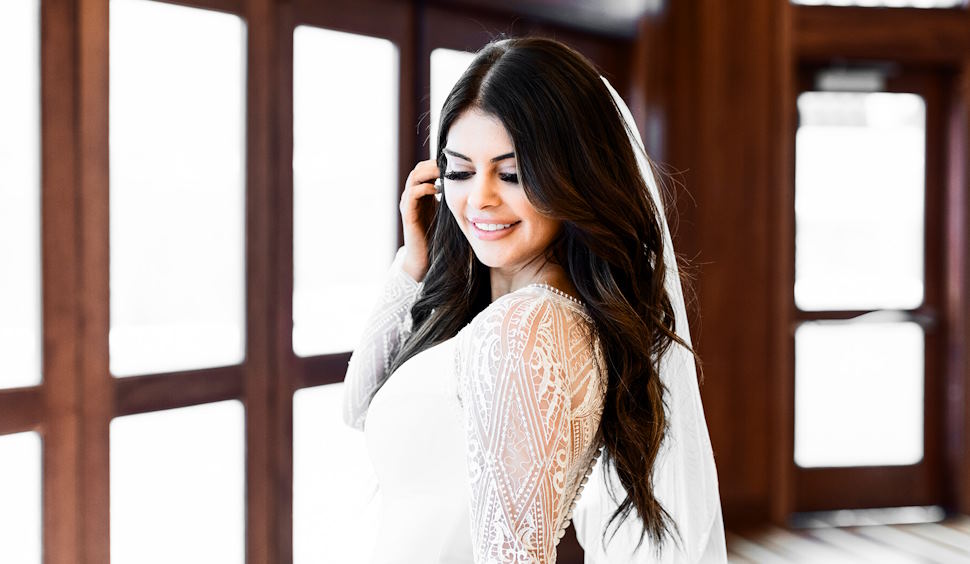 Modern and Minimalist Wedding Themes
For couples who appreciate clean lines, simplicity, and a contemporary aesthetic, modern and minimalist wedding themes are a perfect match. These themes focus on sleek designs, neutral color palettes, and minimalistic decor, creating an atmosphere of sophistication and elegance. Modern weddings often take place in modern venues, such as art galleries, industrial spaces, or chic city lofts, while minimalist weddings embrace simplicity in outdoor settings or intimate indoor venues. These themes exude a sense of refined style, and the bride's hairstyle should reflect the same modern and minimalist approach.
Bridal hairstyles that work well with modern and minimalist themes:
Sleek and polished updos:
A sleek and polished updo is the epitome of elegance and complements modern and minimalist wedding themes perfectly. Whether it's a sleek chignon, a classic bun, or a sophisticated French twist, these hairstyles create a clean and sophisticated look. The smooth and sleek finish accentuates the bride's features and highlights the minimalist aesthetic.
Sleek ponytails and buns:
Another stylish choice for modern and minimalist weddings is a sleek ponytail or a low bun. These hairstyles exude a sense of sophistication and simplicity. A sleek high ponytail adds a touch of chicness, while a low bun offers an understated elegance. Both options emphasize the clean lines and minimalist vibe, allowing the bride's natural beauty to shine.
Geometric or asymmetrical hairstyles:
For those seeking a bolder and more contemporary look, geometric or asymmetrical hairstyles are an excellent choice. These edgier hairstyles add an artistic touch to modern and minimalist wedding themes. Consider a sharp bob with an asymmetrical cut, an angled pixie, or a geometric braided hairstyle. These unconventional options make a bold statement while staying true to the modern and minimalist aesthetic.
Beach and Destination Wedding Themes
Imagine exchanging vows with the sand beneath your feet and the ocean breeze in your hair. Beach and destination weddings offer a magical and romantic experience for couples seeking a unique and picturesque setting to say "I do." Whether you're planning a tropical beach wedding, a seaside ceremony, or a destination wedding in a breathtaking location, these themes embrace the beauty of nature and the relaxed atmosphere of a vacation. With the stunning backdrop of the beach or a scenic destination, your bridal hairstyle should capture the carefree and romantic essence of these themes.
Bridal hairstyles that work well with beach and destination themes:
Loose and effortless updos or braids:
Embrace the casual and breezy vibe of beach and destination weddings with loose and effortless updos or braids. Whether it's a tousled updo, a messy bun, or a fishtail braid, these hairstyles evoke a sense of carefree elegance. The loose strands framing your face add a touch of softness, while the updo or braid keeps your hair off your shoulders, perfect for the beach or a warm destination.
There's something undeniably romantic about soft and tousled waves cascading down your shoulders. This timeless hairstyle effortlessly complements beach and destination wedding themes. Whether your hair is naturally wavy or you achieve the look with a curling wand or sea salt spray, romantic tousled waves exude a sense of natural beauty and femininity, perfectly matching the romantic ambiance of these settings.
Tropical flower hair accessories:
Embrace the tropical surroundings and add a touch of exotic beauty to your bridal hairstyle with tropical flower hair accessories. Whether it's a single hibiscus flower tucked behind your ear or a delicate flower crown adorned with orchids and plumerias, these vibrant floral accents bring a touch of paradise to your look. Tropical flower hair accessories effortlessly enhance the beach or destination wedding theme, adding a pop of color and a tropical flair.
About
Over the past ten years, Art Clvb has grown to become a household name in online media, providing millions of women around the globe with a daily dose of art&fashion inspiration and guidance. By offering detailed in-depth features, career profiles, relatable first-hand accounts, and how-to guides, Art Clvb inspires women toward leading a well-rounded and stylish life.